*** STOP PRESS ***
We have a much larger range this year!
Night Star, Fire Star, Astra, Scorpion and Brothers Fireworks! - Excellent quality fireworks at great prices. ALL fireworks 50% off marked prices!
We have a massive range of fireworks on display in our dedicated firework shop. There really is something for everyone. From small selection boxes to huge cakes and rockets.
If you are looking for quality and value for money then visit our shop or contact us for any information.
Our best selling fireworks
Thunderhawk rockets - If its noise that you like then these are the rockets for you. Currently half the marked price!
End of the world 500 shot barrage - The ultimate finale at an affordable price. 50% off!
Black Nebula Selection Box - Has proven itself as a perfect addition to any Bonfire Night celebration.
Our stand out items this year are the 'The Punisher'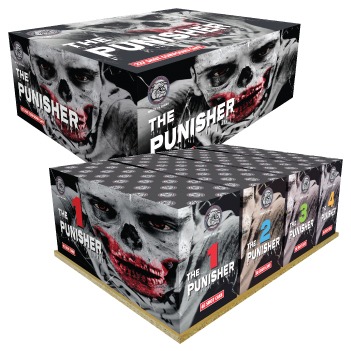 The Punisher:
This largest in class compound cake is a 4 cake all in one display. 227 shots give the viewing public the ultimate firework show.
R.R.P £499.99 Our price £250.00.
When can I buy fireworks
You can purchase our fireworks between 15th October to the 10th November and 26th - 31st December.
The day of Diwali and three days prior.
The first day of the Chinese New Year and three days prior.
We may extended opening hours during the week ending 5th November 2017, please call for confirmation.
Fireworks and safety
All of our fireworks are tested to comply with either CE1170 or CE1395, as appropriate.
We keep all of our fireworks in locked display cabinets in accordance with safety regulations.
Remember to follow the firework code! Fireworks are fun but can be very dangerous if handled inappropriately.